Our attorneys bring a wide range of experience and perspective to the firm.  Because we are a small firm, our entire team works together on every file.  We find that our team based approach brings more energy, ideas, and ultimately better results for our clients.  Furthermore, having multiple sets of eyes on a file ensures that nothing goes unnoticed.
Jeremy Domozick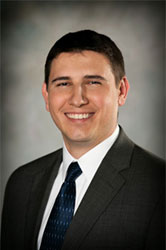 Jeremy Domozick
Jeremy Domozick grew up in Virginia Beach. Like many people, he came here through the military. His father served in the United States Coast Guard and was stationed in New York, California, Ohio, and North Carolina before finally settling down in Virginia when Jeremy was in elementary school. His father ended up retiring here and Jeremy's whole family still lives locally.
After graduating college from George Mason University in 2001, Jeremy went on to law school at William & Mary. He graduated in the spring of 2004, passed the bar exam that summer, and started working that fall. Jeremy has worked in a variety of positions over his career, including in-house counsel for a small local business, temporary legal support for the City of Virginia Beach, and most recently as an associate in the Virginia Beach office of Carrell Blanton Ferris & Associates. Currently, he practices on his own as the principal of The Domozick Law Firm PLLC.
Jeremy focuses his practice in two main areas: estate planning and business law. He helps individuals and families plan for the future to protect their assets and their legacies. He also enjoys helping businesses—from start-ups to established companies—solve their legal questions and concerns. He does everything from forming LLCs and corporations to drafting contracts to assisting owners buy and sell companies.
Jeremy currently lives in Virginia Beach where he enjoys spending time with his wife, Anne, and their three young children.